Delta Lodge at Kananaskis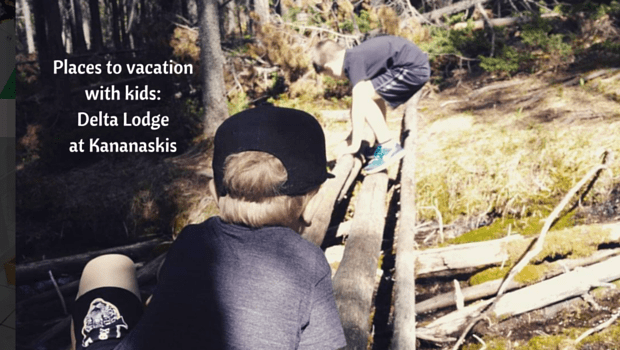 Delta Lodge at Kananaskis
Usually when my husband goes to a conference we elect to stay home instead of tagging along. Who wants to sit in a hotel room with two very active boys waiting for Dad's meetings to be done for two hours of family fun before bedtime? And anyone with kids knows that bedtime in a hotel with kids is impossible with all the distractions of four people being arms reach from each other. But then my husband said he was attending a conference in Kananaskis and staying at the Delta Lodge at Kananaskis. A quick search of the hotel and a few questions for them on Instagram and I knew this was a trip worth tagging along for.
Delta Lodge at Kananaskis might be one of the most kid friendly hotels that we have stayed in as a family besides the time that we went to Disneyland. (that is another post in itself) We opted to get an upgrade to a suite as we would be staying for three days and it was absolutely worth it. The kids LOVED that the hotel room had an loft and we loved that we could let the kids watch a movie upstairs or put them to bed and we could still sit downstairs on the couch with a glass of wine and enjoy a fire. The rooms were clean, spacious, and having a balcony to sit on and drink my morning coffee was perfect.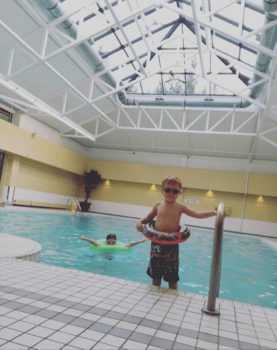 The kids loved the pool area with their indoor/outdoor hot tub and large indoor pool to play in. They even had life jackets available which saved us some suitcase space! Besides the pool they also had an indoor play area for the kids where different crafts and activities were put on by hotel staff throughout the day. The kids' favourite one was the scavenger hunt around the hotel and its grounds. We didn't even have time to go play ping pong or board games in the games room because there was so much to do!
Around the hotel there are many short walks perfect for parents with strollers or small children, longer hikes for older kids, and a great playground surrounded by a forest for the kids to explore. The kids also loved climbing the rocks and playing by the water in the main area. There was so much to explore we could have easily been entertained for a few more days without even leaving the resort!
Other great things about The Delta Lodge at Kananaskis are that kids 0-6 years eat free from the kids menu, kids 7-12 receive select meals from the adult menu or preset menu at 50% off, and kids under 17 year stay free when accompanied by an adult. A hidden gem of a hotel for sure! 
We loved staying at The Delta Lodge at Kananaskis and can't wait to go back soon. We are hoping to go back in the winter this time as we heard from the staff that there are great toboggan hills, sleigh rides, snow shoeing and more!
Please follow and like us: