The 18th annual Cornfest is taking place on Saturday September 10th 12pm-5pm and you're invited!
Hosted by The Marketplace at Callingwood (6655-178 Street) Cornfest is a community family event held in support of the Edmonton Firefighters Burn Treatment Society.
Funds raised from this event go towards the approximately 200 burn survivors treated at the Firefighters' Burn Unit each year, through research and development, special equipment and training, and the Alberta Children Burn camp.
Corn and more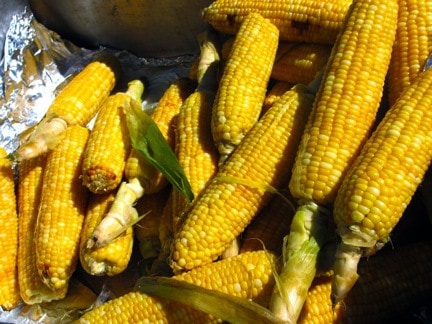 At Cornfest you will be able to enjoy some delicious hot buttered Taber corn (donated from Tanner Farms) and hot dogs, pop, and much more delicious food and refreshments. Come hungry because you'll definitely want to try everything.
Family friendly activities at Cornfest
There will be several fun activities to check out. Take a fire truck tour with some Edmonton Firefighters, check out the petting zoo, go on a pony ride, jump in bouncy castles, play some games, and more. There will also be a 50/50 raffle tickets available for purchase throughout the event.
Cost
Corn, other food items, refreshments, games and activities all operate on a ticket system. Tickets are $1 each and food/activities range from 1-4 tickets. To purchase tickets, the ticket tent will be close to the centre area of the event and is cash only.
To stay up to date on this fun family community event, you can check out the Facebook event. See you there!!
The Marketplace at Callingwood has sponsored this post, however all opinions and content are absolutely my own.