If there is one thing that I love, it's a good road trip so when I was invited to the Granary Road media night I, of course, jumped at the chance.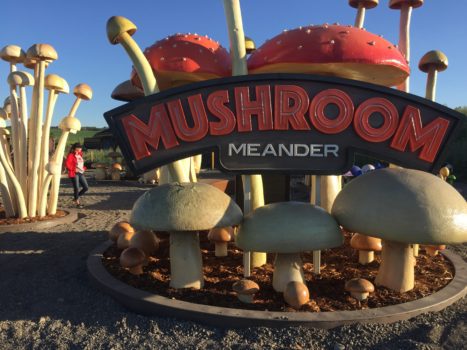 A road trip to check out Granary Road
In a whirlwind of a road trip, I left Edmonton at 2:00pm and made pretty good time, picked my cousin up in Airdrie (just outside of Calgary), hit a massive hail storm, and made it to Granary Road to get a sneak peek of the awesome public market, and active learning park. 
Vendors & more
Vendors that are located in the year-round Public Market are unique and high-end and include fresh vegetables, imported olive oils, artisan bonbons and truffles, delicious dips essential oils, and other household wares and essentials. The loft kitchen and bakery offer fresh and delicious food that will make your mouth water. 
Active Learning Park
Everything is made with learning and exploring in mind. With large play areas to climb, run, and play, learning exhibits in each of the eleven exhibits, and staff that knows their stuff. Paths will accessible for strollers and wheel chairs and there are also washrooms located out by the exhibits.
Some of my favourite parts include:
The Bat Cave Hangout maze. Outfitted with a chest strap and helmet that covers your eyes you use echolocation, just like bats to make sure that you don't bump into the walls. If you get too close to the wall it beeps. It's really cool. 

The Frog Pong Lily Pad trampolines that are in the ground (my kids will be all over this). Safe and fun.

Mini Zipline in the Orchard Treehouse 
With everything to see and do you can easily spend the whole there so pack a lunch (or grab something from Granary Road) and visit them starting July 7th. 
You can find Granary Road at 226034 112th St West, MD of Foothills, AB, and find even more details about them on their website. 
Enter to win admission tickets to Granary Road
We want you to experience just how awesome Granary Road is and I've partnered with them to give away a family 4 pack of tickets for admission. Enter below! 
SaveSaveSaveSave
SaveSave
SaveSave
SaveSave