The holiday season is upon us and I've rounded up some of the best kids board games to make your gift shopping a little bit easier!  
Not only do these kids board games make great non-toy gifts they are also an excellent way to spend time with family
Best kids board games 2017

Spot It! 
There is always one, and only one, matching symbol between any two cards A sharp eye and quick reflexes is all it takes to play the 5 quick party games in this grab-n-go tin.
Ages 7-12yrs
$19.95
Find it here
Soggy Doggy 
Move your players around the board and take turns bathing this pup. But be careful! He loves to shake himself dry.
Ages 3+
$29.99
Find it here
Igloo Mania
Keep your cool! Don't let the pressure and tension get to you or Parka Pete could fall to his feet – straight through the igloo! Parka Pete has finally placed his last block of ice to complete his igloo.  But those pesky penguins have to ruin everything!
Ages 5+
$21.00
Find it here 
Three Little Piggies
Smart Little Piggies is a perfect brain game for young children. It features 3 big puzzle pieces that are easy to hold, and kids will be intrigued by the way the pigs fit inside the houses and look through the windows.
Ages 3+
$34.95
Find it here
Pickles to Penguins 
This loud and goofy party game asks you to make-up the connections between items to be the first to get rid of your cards. Can you discern a link between pickles and penguins? bees and balloons? guitars and jars?
Ages 8+
$25.48
Find it here 
Toilet Trouble
Who knows which flush will be the one that sprays water, eliminating that player? Continue taking turns spinning the roll and flushing until one player has not been sprayed. That player wins the game!
Ages 5+
$13.88 
Find it here
Egged on 
Take a crack at the Egged On game, Hasbro's hilarious twist on the egg roulette challenge. In this game, players pick the right egg or get wet!
Ages 5+
$14 
Find it here
Num Noms Happy Stacks Game 
Take an order! Scoop and stack Nums! Watch out! Sundae cup pops when times runs out!
Ages 3+
$24.99
Find it here 
Scrabble Junior 
Kid-sized words and colorful pictures make it fun to match letter tiles to words on the grid. Players move their funny tokens up the score track as they score points.
Ages 5+
$19.93
Find it here
Sushi Go
Pass the sushi! In this fast-playing card game, the goal is to grab the best combination of sushi dishes as they whiz by.
Ages 8+
$15
Find it here
Boom Boom Balloon
The crazy game where each player tries to keep the balloon from popping!
Ages 8+
$23.00
Find it here 
Fantastic Gymnastics 
Players time their speed and rhythm to gain momentum to flip the gymnast figure around the high bar. At the right moment, hit the release button to let him fly, and try to stick the perfect landing.
Ages 8+
$13.88
Find it here
Spy Code: Breakfree 
This innovative electronic game challenges players to use their spy skills and memory to crack the code to a safe and collect the coins.
Age 6+
$34.99
Find it here 
Harry Potter Hogwarts Battle
Play as your favorite characters and defend the wizarding world from evil forces.
Ages 11+
$49.95
Find it here
Exploding Kittens
Exploding Kittens is a card game for people who are into kittens and explosions and laser beams and sometimes goats.  The game is family friendly and for 2-5 players.
Ages 7+
$29.95
Find it here
Avalanche Fruit Stand
Steady… don't spill the fruit! Spin the wheel, then use the jumbo tweezers to pick or place fruit. A great game to build fine motor skills.
Ages 3+
$27.99
Find it here
Qwirkle
A game of strategy that is played by creating rows and columns of matching colours and shapes.
Ages 6+
$29.73
Find it here 
Speak Out Kids vs Parents
Players try to say different phrases while wearing a mouthpiece that won't let them shut their mouth.
Ages 8+
$24.95
Find it here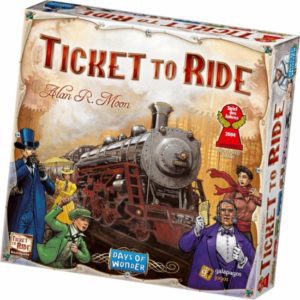 Ticket to Ride
The object is to collect cards of various types of train cars, and then use them to claim railway routes in North America. The longer the routes, the more points the player will earn.
Ages 8+
$69.95
Find it here
Mousetrap
Snap the trap and win at Mousetrap! Run through the maze as Sneakers Mouse, Nacho Mouse or Pepper Mouse spins on the cheesy spinner. 
Ages 4+
$19.93
Find it here
Blokus 
Stake your claim and protect your territory with Blokus game! There's just one rule: each piece you play must touch at least one other piece of the same color, but only at the corners! 
Ages 7+
$13.88
Find it here 
What are some favourite kids board games in your home?
Still looking for an advent calendar? I've got a few suggestions for you here!
This post contains affiliate links 
Please follow and like us: