My kids really want to learn how to skate, and while Kris and I have started to embrace more wintery type activities we still haven't gotten on the skating wagon… And as much as I would love to sign them up for a program I am not ready to commit any money to something that they may or may not like.
Free Drop-in Learn to Skate program across Edmonton
This is where the free drop-in Learn to Skate program across Edmonton comes in handy. Starting on January 13th in various communities across Edmonton children and families are invited to try out basic skating skills through on-ice games and activities. Trained leaders will be on hand to adapt the program to the age and skill level of the participants.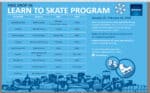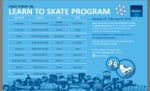 To participate in the drop-in Learn to Skate programs you will need to bring your skates as well as a CSA approved helmet. All children 5 and under must be accompanied by an adult! 
For more details, you can check out the City of Edmonton website or call 311. 
**The program will be canceled at -25 degrees Celsius with the wind-chill
Please follow and like us: