Wondering what to with on Family Day around Edmonton? The good news is that there are many fun events and activities to choose from, get the full list below.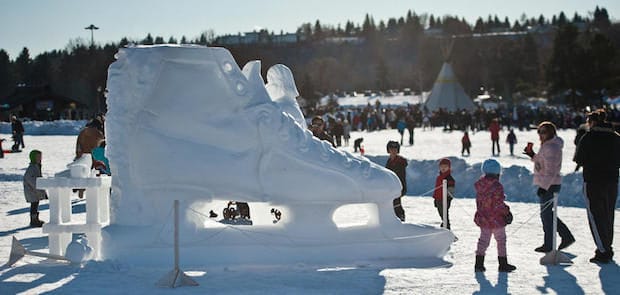 Family Day around Edmonton 2018
VantagePointe Community Church 
Sunday, February 18th we will be having a service at 11:00 a.m. with a Chilli Lunch to follow at 12:30 p.m. There will be games for all ages, marshmallow roasting, cookie decorating and so much more.
More details 
Family Day Frolic at Creekwood 
Join us on Sunday, February 18th, from 12-5PM on Chappelle Way in the Creekwood Collections at Chappelle and Chappelle Road in Creekwood Chappelle for an afternoon of family fun and entertainment. From horse-drawn wagon rides and dog sled teams to a hockey shootout and an adventure bus, there will be fun for the whole family and so much more!
More details
Mill Wood Centre Family Day, Health Day 
On February 17th from 1:00 pm-3:00 pm, join us for popcorn, brain teaser games, crafts, teddy bear clinic, fitness demonstrations and other health care related activities. Don't forget to bring your favorite stuffed animals or toys for a "check-up"!
More details 
Silver Skate Festival (February 9th-19th) 
A 10-day, family-oriented festival running February 9-19, 2018 in Edmonton's scenic river valley. Rooted in Dutch winter traditions, the festival combines sport (especially skating), arts and culture, and recreation.
More details 
Fish for free at Alberta Family Fishing Weekend
Taking place February 17th-19th Albertans (and those visiting our awesome province during this time) are invited to give fishing a try on waterbodies with open fishing seasons all across Alberta.
More details
Snowman Festival (Morinville) 
Horse Sleigh Rides, Hot Chocolate & Hot Dog Lunch provided by the Morinville Lions Club for free with a donation to the Morinville Food Bank Society. Outdoor Photo Booth, Ice Skating, Winter Mini Golf, Snowshoeing, Games & Crafts, and Fire Pits
More details 
Family Day Pancake Breakfast at McLeod Community Hall 
Start your family day off with a free pancake breakfast. Bring cash or non-perishable donation for the food bank
More details
Winter Fest in Spruce Grove 
FREE Pancake breakfast for the first 400 people, Street Hockey Tournament, Marshmallow Roasting, Ugly Toque Contest, Heated tent activities and more
More details 
Kennilworth Hot Dig-ity Dog Family Day
Celebrate Family Day with skating, hot dogs, and hot chocolate.
More details 
Swing and Skate at City Hall 
Grab your skates and drop by Edmonton City Hall for Swing and Skate 2018. We'll be playing a great selection of music to accompany you as you glide across the ice. Or you can join us in the warm main space of City Hall and dance up a storm instead!
More details 
Sherbrooke Community Family Day Cook-Off
Come down to the Community Hall and get your hands on some great grub! Free hot dog & chili for Community League members, $2 without membership card (tickets available at the door).
More details
Family Day Skating Party 
There will be skate rentals available for $2.00, sleigh rides, free hot chocolate, and cookies, live music, indoor and outdoor activities, along with food and drink for sale.
More details 
Edmonton Garrison Family Day Festival 
The Edmonton Garrison Family Day Celebration 2018 will have a Quebec Winter Carnival theme including a voyageur canoe, Quebecois cuisine, and some limited outdoor activities. Inside there will be inflatables and other fun attractions for the whole family. Free with a donation to the Edmonton Garrison Chapels Food Bank.
More details 
Family Day at the YMCA
Enjoy a free public swim, group fitness classes, open gym, and other fun activities. Activities vary per location, check with your local YMCA for exact times.
More details 
Family Day at West Edmonton Mall 
Aculpeca dancers will be performing with other cultural associations from the Edmonton Folk art council. Come with your family and enjoy an afternoon of dancing to celebrate Family Day.
More details
Family Day at Yellowbird Community League 
Come on out for free hot dogs, chili, sleigh rides, skating, hot chocolate and cookies, bannock making, sledding, and more!!
More details 
Family Day at Elk Island Park 
Enjoy all things winter at Elk Island National Park! Kick things off on Family Day, February 19, with live music, snow games, and treats roasted over the fire in the Astotin Lake Recreation Area!
More details 
Celebrate Family Day at Rutherford House 
Celebrate Family Day with a FREE visit to the historic home of the first Premier of Alberta, Alexander Cameron Rutherford, and discover the unique personalities in the Rutherford family.
More details 
Evangel Assembly's Family Day Carnival 
Enjoy inflatables, petting zoo, carnival games, music and entertainment, food, and much more.
More details 
Highlands Family Day Fun 
Bring your skates, nordic skis, snowshoes, toboggans, and more and enjoy a fun-filled day in the snow and on the ponds. BBQ & hot drinks available. Cash donations accepted with all proceeds going to the Mustard Seed Church.
More details 
Steele Heights Baptist Church Family Day Festival
Entertainment by comedy duo Bare N' Von Hair, music by Cantoo.
Free food, sleigh ride, space maze, glow room, planetarium and more!
Bake Sale in support of the Mosaic Centre.
More details 
Fraser Community League Family Day Event 
Activities include sledding, snow art, Glow Yoga family class, skating, horse rides, and more. Popcorn/hot chocolate/coffee at the event for purchase.
More details
Family Day at the Edmonton Valley Zoo
Enjoy "arctic" activities and games throughout the zoo, visit our free photo booth to take home a family memory and don't forget your reusable mug if you want to enjoy some hot chocolate!
More details
Family Day activities at the Edmonton Reuse Centre 
free drop-in activities for the whole family, including a fire-breathing dragon craft, a balloon artist, facility tours, popcorn, compost tea bags and more!
More details 
Family Day at the Legislature
Explore the Alberta Legislature with our Lost in the Legislature History Hunt. Sing along to the captivating tunes of Michelle & Friends. Unravel the sleight of hand of magician Sheldon Casavant. Whatever you choose to do, Family Day at the Legislature promises to be fun for your whole family.
More details
Qualico Family Day at the Alberta Art Gallery 
Enjoy free admission and join us for art activities that celebrate Alberta forests and the families of animals who live there! Make your favourite animal puppets, explore new textures with a paintbrush that you make out of fir trees needles, or create a multi-media forest with cardboard, yarns, oil pastels, and fabrics.
More details 
Bonnie Doon Centre Family Day 
Join us for a day filled with festive activities from Face Painting, Balloon Artists to Virtual Reality Games & Mini Golf & more! There is even FREE Family Portraits and Family Crafts to make this a memorable event for the Family to get together for a day filled with fun!
More details 
Family Day at Hairsine Community League 
Join us for family day skating and some shiny family hockey! Bring your skates as Music will be on, the fire pit will be roaring for cooking up some s'mores. Free Hot chocolate. Will have a family movie running upstairs. Concession will be open.
More details 
Family Day at the Edmonton Public Library 
Bring the family to an Edmonton Public Library Branch closest to you and take a digital scavenger hunt, make your own musical instrument and enjoy a wildly entertaining puppet show, and other drop-in events.
More details 
Watch the Muppets Movie at Metro Cinema 
Watch the classic 1979 Muppets Movie with the family, kids 12 and under are free.
More details
Free Skating at City of Edmonton Outdoor Rinks 
Free skating is available at City of Edmonton outdoor ice surfaces in Hawrelak, Jackie Parker, Victoria, Rundel and Castle Downs parks. Shiny players are welcome on the Hawrelak Park alternate ice surface at Shelter #2. Take a twirl on the IceWay Skating Trails, located next to the Victoria Park Oval and in Rundle Park.
More details
Fire and Ice Festival in St.Albert
Kids Firefighter Obstacle Course, Petting Zoo with Finnegan Farms, Fun crafts with Home Depot, Skating, Pond Hockey with Firefighters (bring your own stick), Fire Artist Performance – Fable Arts – 2 & 3 p.m., Horse-Drawn Sleigh Rides from MP Stables, Cabane à Sucre and more.
More details 
Links are provided for each event which will tell you dates, times, locations. Just Another Edmonton Mommy is not responsible for any cancellation or change of date for any events listed. 
Photo credit: Alberta Speed Skating 
Please follow and like us: