Recently we spent the weekend in Central Alberta and the 2019 Ford Edge ST was what got us there!
Exploring Central Alberta In The Ford Edge ST
Our first stop was at the DINOS Centre in Innisfail, Alberta which is approximately 3o minutes South of Red Deer. The Ford Edge ST provided a smooth ride which conveniently has adaptive cruise control and lane keeping assist just in case you're moving into the next lane while driving.
The backseat room for the kids was great because as my kids get older the need for car seats isn't all that important, but the room is… and there was enough mainly because we went the whole time without anyone claiming there was no space.
However, if it's car seat space you are looking for the Ford Edge ST can fit 3 car seats in the back row with tether anchors for all 3 seats and lower anchors on both of the outer seats. Testing out car seats it would be a good fit with slimmer car seat.
While we were at the DINOS Centre there we played mini-golf and laser tag and had the chance to look through the Bible History Museum. You can read the full review here.
The day before we left for Innisfail we decided that we would actually stay the night so that we could have more time to relax and explore. We booked a last minute room at Days Inn by Wyndham Red Deer so once we were done at the DINOS Centre we spent the rest of the day vegging out and enjoying the pool.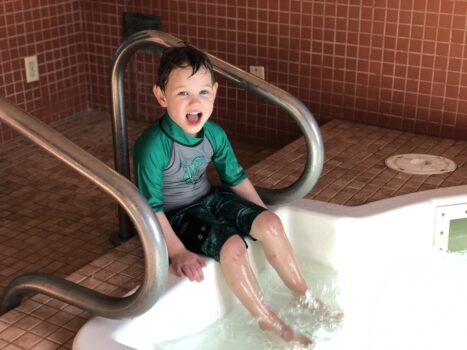 Before heading home the next day we stopped off at Gaetz Lake Sanctuary which has some great walking trails to explore as well as an indoor sanctuary where the kids were able to see a Garter Snake up close!
Other Great Ford Edge ST Features
The gear shift was one of the unique things that I loved about this Ford because instead of a stick gear shift is was a turn knob. While at first, it was hard to get used to it was actually pretty awesome to use. The Ford Edge ST also had the option to switch to sport mode, which gave the drive experience an added boost. Kind of like adding some pep to your step, but in a vehicle.
If you have an iPhone 8 and newer you'll also love the Sync 3, which offers wireless phone charging. Perfect for someone like me who manage to break and or lose cords all the time.
We had a ton of fun using the 2019 Ford Edge ST to get around for our central Alberta exploring and if you're looking for a family friendly vehicle this is definitely one vehicle to put on your list for consideration.
This post was created in partnership with Ford Canada, as always options are my own.