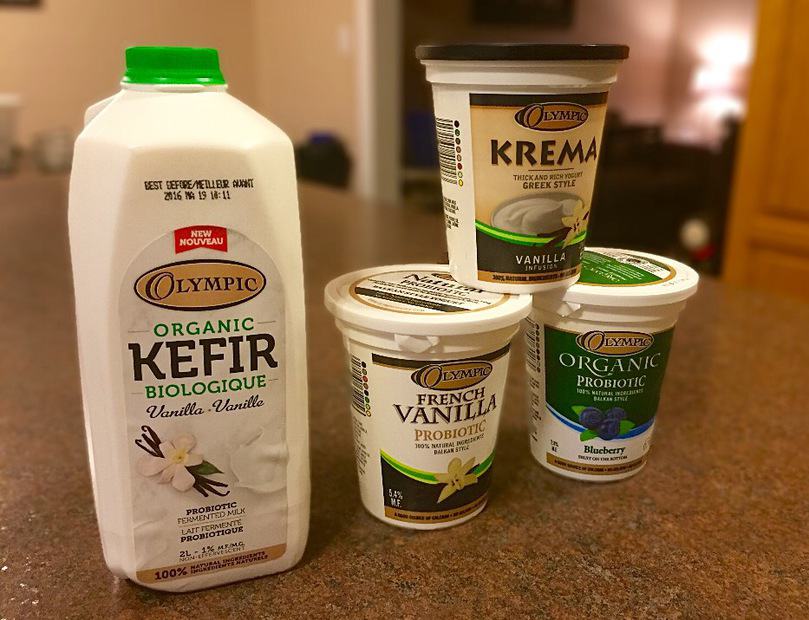 As a family of 5 and someone who watches 2 kids during the week, we go through a lot of yogurt in this household. Breakfast, lunch, snacks, and midnight pick me ups- we love our yogurt. Like many people we are also particular about the brand that we use. A few years ago when we were on a mission to include more natural products in our diet, we discovered the Olympic Dairy products and since then it has been a staple in our refrigerator. Made in Delta, B.C. their products are made with 100% natural ingredients, with several flavours to choose from.
Recently I tried Olympic Krema Greek Style Thick & Rich Yogurt, Olympic Vanilla Kefir, and Olympic Organic Probiotic Yogurt. After reviewing these 3 products, I was inspired to create a fresh and delicious recipe using Olympic Organic Probiotic Vanilla Yogurt.
Olympic Krema Greek Style Thick & Rich Vanilla Infusion Yogurt
This is one of our favourite products that we use everyday. In fact, Olympic makes tubs of this yogurt that comes in 1.75kg containers and we go through 2 of them in a month. A smooth and delicious flavour, Carter and Sophie always ask for the 'ice cream yogurt.' Not only does it taste great, but it also contains 8g of protein per 175g which a great addition to all of our diets, especially for the kids who at times don't get enough protein. My favourite way to eat this yogurt is with a cut up banana. So delicious!!
Olympic Vanilla Organic Kefir
I had never tried Kefir before so I really didn't know what to expect. Kefir is a probiotic fermented milk that contains 2 billion probiotics per 250ml, has 10 different bacterial cultures, and is only 1% milk fat which makes it great for digestive flora. After trying Olympic Dairy's refreshingly smooth new Vanilla Kefir, I was pleasantly surprised. With the consistency of milk and the taste of yogurt it has been a great addition to our after-school smoothies and also goes great with oatmeal. You can also find Olympic Kefir products in plain or strawberry flavours.
Olympic Organic Probiotic Yogurt
One of my favourite things about this yogurt is that it comes in several different flavours such as raspberry, vanilla, lemon, blueberry, peach, and coconut. The kids love to pick 2 of the flavours and mix them together. My favourite is a mixture of raspberry and vanilla. This yogurt is also gluten and gelatin free and the main ingredient in my recipe for yogurt pie.
Lemon Infused Blueberry Vanilla Yogurt Pie
You will need: 
Graham Cracker Crust

2 table spoons lemon zest (grated lemon peel)

1 cup Olympic Organic Probiotic French Vanilla Yogurt

2 cups (split between 2 bowls) of Olympic Organic Probiotic Blueberry Yogurt
Directions: 
Mix 1 Tablespoon of lemon zest in with each cup of Blueberry Yogurt

Pour Blueberry Yogurt into the graham cracker crust and even out using spatula

Next, pour the French Vanilla Yogurt into the middle

Add the remaining Blueberry Yogurt over top

Place in freezer for at least 4 hours

Remove from freezer, let sit for 5 minutes

Cut and serve
If you like this recipe and are looking for other recipes that have Olympic Dairy products in them you can check out the Olympic website for delicious farm to table recipes ideas.
Although this post has been generously sponsored by Ultima Foods, the opinions and language are my own.