Finding Maternity clothes that fit great and that will last you throughout your pregnancy and into your 4th trimester are some of the things that Yo Mama Maternity helps new and expecting moms with. (The 4th trimester is where you're no longer pregnant but not fitting into your pre-pregnancy clothes just yet and also maybe nursing) 
Last week at the Modern Bump Social Yo Mama Maternity hosted a fashion show of Maternity clothes for the season and gave some great fashion tips. 
Clothes that are versatile

Finding shirts that have double ruching will help maintain the shape of the shirt so it can be worn as your belly grows and after pregnancy as well. Yo Mama Maternity also carriers shirts and dresses with discreet options that can be used during nursing too. Having clothes that you can wear throughout your pregnancy and beyond is easier on the budget and well let's be honest…sometimes there are those Maternity pieces that you buy and they're just to cute to not wear anymore! 
Dress it up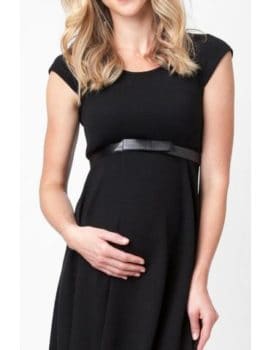 From a black maxi dress to something with a little less length Yo Mama Maternity carries several options (and some that are also nursing friendly too!) Whether its a backyard bbq or a black tie affair accessorizing will help to create the look that you're looking to make. Maternity belts are a great addition to your outfit but other pieces such as a statement necklace, a jean jacket, cardigan, and the right pair of shoes will help to complete your look.
Bottoms
Every pregnant belly is different, which means everybody has a preference for how their bottoms should fit. There are several options for the mama to wear, whether you're looking for something to work out in, keep cool during the hot summer months, or something that is more dressy for work or an event Yo Mama Maternity has something for every belly.  This also includes different belly panels, from under the belly to fully belly support! 
Gone are the days where maternity fashion is non existent! Yo Mama Maternity carries several brands such as J Brand, Seraphine, Ingrid & Isabel and more! You can find them in West Edmonton at 9522 170 street or you can visit the Yo Mama Maternity website to shop online!