I had the chance to help out at one of the Bonnie Doon Centre workshops teaching people how to make bath bombs! 
One of the comments that I heard the most from people was that they were surprised at how little time it actually took to make the bath bombs and just how easy it was. Grab your ingredients and lets make some bath bombs! 
Ingredients needed for Bath Bombs
Baking Soda – ½ cup

Citric Acid – ¼ cup (purchased from Creations from Eden but can also be purchased at Bulk Barn)

Corn Starch – ¼ cup

Epson Salt – ¼ cup

Food colouring – 2 drops 

Castor Oil – ¼ tsp (really any oil works good, coconut, grape seed, or whatever oil you would like to try)

Water – 1 tbsp
Optional ingredients
Glitter – 1/2 tsp

Rose petals – 1 tsp

Essential Oil – 2-3 drops 
Directions
Mix dry ingredients together in one bowl

Mix wet ingredients together in another bowl

Add wet ingredients to dry ingredients slowly while mixing with a whisk (you want to avoid fizzing)

Pack into your mould and let sit overnight or place in the fridge for a few hours 

To package bath bombs outside of the mould, tap the mould lightly before opening so it is easy to remove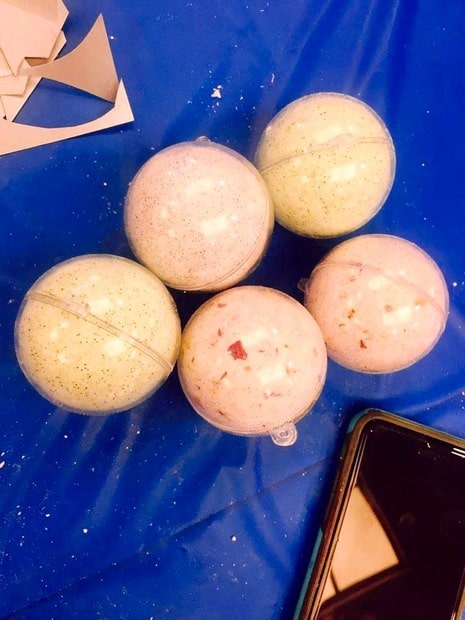 To set the bath bombs, we used clear ornaments which are medium size. I purchased these through Oriental Trading but I have also seen them at Dollarama, Walmart, and Michaels. 
If you attended the workshop it was great to meet you and stay tuned for other workshops taking place once at month at Bonnie Doon Center starting in the New Year!