"Let's move to Dubai." I think I actually said those words. Words I never, in a million years, thought I would ever say. And yet I said them and here we are, living in Dubai, 11,185 kilometres from Edmonton. I never saw myself leaving Edmonton. I was born and raised there, my family is there; my entire life (and that of my husband and kids) is in Edmonton. It is home. So why leave?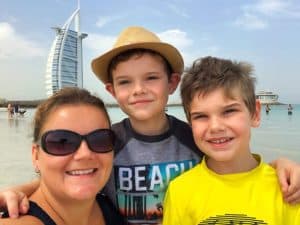 Moving From Edmonton To Dubai…
I've never had the travel bug. I don't have a bucket list of places I'd like to visit. Up until now, I'd only travelled overseas once and that was with a class trip when I was 14. I'm actually a terrible traveller. I get motion sick in pretty much any moving vehicle.  I like to travel but I really enjoy coming home.
My husband and I had talked about a possible work-abroad opportunity for years but with two young kids at home, it wasn't something I was interested in. Being close to family and friends and the support system they provide was a greater priority. Except now, with our kids older and in school full-time, the opportunity seemed more manageable; a once-in-a-lifetime adventure that they would remember and would expose them to different cultures, languages, and experiences, not to mention an exciting opportunity for my husband and me.
"Let's move to Dubai." I think I actually said those words. Words I never, in a million years, thought I would ever say.
In March, my husband was offered a position based in Dubai, United Arab Emirates for three years. We discussed the opportunity and the life we wanted for ourselves and especially the impact it would have on our two kids. After talking about it as a "what if" for several days, we made the decision to go for it. We shared the news with our kids and our families and there were mixed reactions. Even I was anxious and stressed about our decision. Our move date was set for the end of July so the countdown was officially on. My husband spent the entire month of June in Dubai, getting his residency Visa and Emirates ID, setting up bank accounts, and touring schools. I spent the month selling almost everything we owned.
We cleared out our 1,800 square foot home into a 20-foot sea-can. We sold many, many things and only stored what we would still want in our lives when we return in three years. We decided not to ship anything overseas because of cost and time so anything we wanted to take with us had to fit within the size and weight restrictions of a suitcase. We packed everything into eight suitcases, two carry-on bags, and three backpacks. We packed family photos, Lego, Pokemon cards, board games, books, snorkel sets, baseball gloves, Heinkel knives, my recipes book, and Christmas stockings in addition to almost all our clothes and shoes (no winter gear needed here).
I agreed to move to Dubai sight-unseen. I'd seen pictures (haven't we all) of the glitz and glamour, the desert and camels, and the tall buildings but had never actually been there. My husband has visited for work several times but even with his experience, I could not imagine what life would look like; and not just any life but MY life, with my husband and my boys. The last few weeks before we left were filled with anxiety and stress about what our life in Dubai would be like. How will the kids adapt? Will they succeed in school? How will I manage to be a stay-at-home-mom with no family support in a foreign country? What have we gotten ourselves into?
We left Edmonton on July 26 and settled into a hotel. We moved into our Dubai house on August 25 and school started on September 3. Our new life has truly begun. Now that we have been here for two months it really feels like we can do this; we will survive and maybe even thrive. We are excited to explore all that Dubai has to offer – huge malls, water parks, theme parks, beaches, mountains, indoor ski hills – not to mention the other Emirates and countries that are just a short drive away. We have embarked on a new adventure; a life that we never expected or planned for but one that we are embracing with open arms.
Amy McGarvey is an Edmonton mom and wife who has moved to Dubai with her family for 3 years. Follow her journey on Instagram as she explores Dubai with her family as well as her blog From Snowballs To Sandcastles. 
Want to contribute a blog post to Just Another Edmonton Mommy? Send an email to [email protected]