Updated March 2021
Every summer we spend some time in BC, with the last couple of years taking us to Swan Lake RV Resort in Vernon, BC. However, this summer we decided to switch it up and spent our holidays at Holiday Park Resort in Kelowna.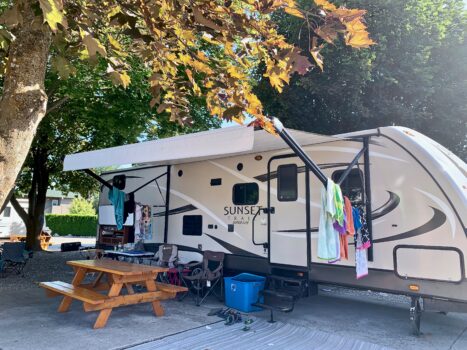 Summer Vacation At Holiday Park Resort, Kelowna BC
Holiday Park Resort is a retirement community that is extremely family-friendly. Located on Ellison Lake, there are a few different options for your family to enjoy the resort. This includes rentals of RV sites for your own trailers, Peak Homes, as well as condos.
Pricing depends on the time of year that you are staying and also if you are a member, with summer being peak season.
RV sites range from $55-$81/night plus tax
Condos range from $155-$340/night plus tax with options to accommodate 2-8 people
Peak homes range from $250/night plus tax
* 2021 pricing 
For the 2019 summer, our family spent 12 nights in the over 2,000 sq. ft. RV sites, which included water, sewer, hydro cable, and 50 amp service. Our total came to $982.80.
While the lake is not swimmable the resort itself has 4 different pool areas with an outdoor pool area that is for families. To say that we spent a lot of time at this pool is an understatement.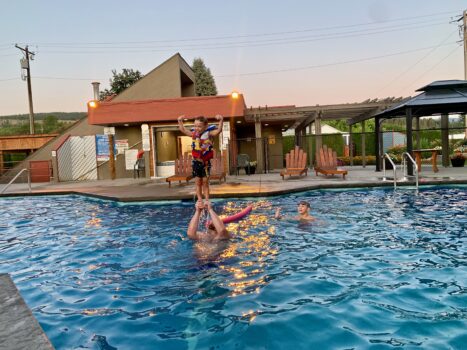 With plenty of space to set up for the day, the area has picnic tables, lawn chairs, and also a decent size green space to bring your own chairs too. There is also an indoor pool that is for all ages as well as 2 adult pools at the resort as well.
Located right by the outdoor family pool area is also a playground and a recreation centre where you can do crafts, play arcade games, and rent bikes. There is also a concession during the day that offers burgers and hot dogs – which are grilled on order. There is something that makes your food taste better when it's cooked to order and enjoyed on hot Kelowna summer day by the pool.
As mentioned above Holiday Park Resort is a retirement community with many people even living there year-round. Therefore there are many activities that cater to the retired! This includes pickleball and shuffleboard and one of the adult pools being a hopping night time spot.
They, however, are way more than just a retirement community. On our first night there we watched Mary Poppins outdoors by the pool and even enjoyed a delicious pancake breakfast on one of our mornings there too. Looking on their website you can see that they are a very family orientated resort with celebrations happening for many major holidays.
While no motorboats are allowed on the lake, paddle boats and canoes are! These can also be rented from the activity centre for you to enjoy the picturesque views and you will most likely see the turtles and fish that call the lake home too!
Other Amenities At Holiday Park Resort
Other amenities that you can find at Holiday Park Resort include:
Coin laundry facilities
Amazing staff who are more than happy to give you details on places to visit
Library, Book Exchange & Puzzles
6 hole, 3 par golf course
Onsite restaurant (The Italian Kitchen Lake Country)
Convenience store which offers a small selection of groceries, RV supplies, ice cream, movies rentals and more
Golf cart rentals to get you around
What We Loved 
To be honest there wasn't anything that we didn't love about staying at Holiday Park Resort. From the welcoming staff, the cleanliness of the whole place to the onsite convenience store for quick trips for ice cream (and even one night an onion) we can't wait to go back.
While it's not located in the heart of Kelowna, that really didn't matter to us. The closest popular attraction is Kangaroo Creek which is literally a 5-minute drive, and everything else we wanted to see and do was also nothing more than a short drive.
You can find Holiday Park Resort by their landmark roadside sailboat (I bet it's ringing a bell now) which is just north of the Kelowna airport. The actual address (if you're using GPS) is 1-415 Commonwealth Rd, Kelowna BC.
For more information or to book your stay at Holiday Park Resort www.sweetlife.com