Starting a new business right before a pandemic is not easy, but that's exactly what Abdul, owner of The Boys Mobile Detailing did. 
When Abdul first started out with detailing vehicles is was on a much larger scale. Planes to be exact. Wanting to be blissfully unaware of what that all entailed we didn't go into stories, though I am sure he has lots to tell. But what did come out of this conversation was his passion and drive to follow his dreams. That's how The Boys Mobile Detailing, lovingly named after his 2 sons, came to be.
Your Ride Our Pride  
My first conversation with The Boys Mobile Detailing was through email to set up my appointment. There were some basic questions that they asked such as my make and model of vehicle as well as if I had any specific concerns with juice stains, pet hair, etc. I was all of the above.
There are several interior and exterior package options that you can choose from at The Boys Mobile Detailing with basic pricing listed right on the website. Don't want a complete package? No problem there are also options to pick choose the services that you need based on an hourly rate.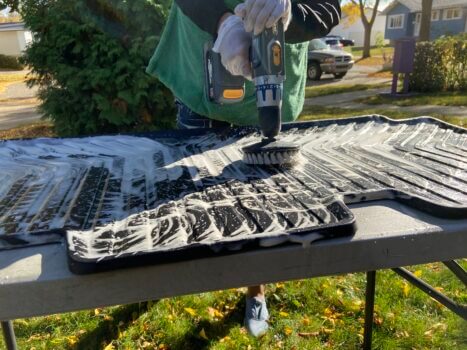 The package that I chose was the Baby Boy package which was created with busy parents in mind! Not only does it include all of the services from the Steam Boy package but also interior deodorizing, pet hair & stain removal, as well as booster/car seat cleaning and disinfection for up to 3 car seats.
Based on all of the information that I gave them I was told that they would need my vehicle for approximately 6 hours. Yup, when you have your vehicle detailed it takes time but believe me when I say, it's oh so worth it.
The best part of this all is that they come to you! But no worries if you don't have the space (or a garage) for them to use when detailing your vehicle because they also offer pickup services to complete the detailing off-site. 
Other Important Details
As an environmentally conscious mobile detailing spa for your vehicle, The Boys Mobile Detailing uses eco-friendly, low VOC-compliant products as well as a dry steam system for both inside and outside of your vehicle.
Dry steam uses both high pressure and high heat so that even those caked-on sticky suckers that you've been trying to get out for months can be removed. Using minimal water, this eco-friendly tool also helps to sterilize, deodorize, and kill 99.9% of bacteria that's in your vehicle.
Most importantly they are also, licensed, registered and fully insured. When it comes to your vehicle, you want this. In fact, that's what their whole motto Your Ride Our Pride is based on. 
Detail Your Ride  
Busy parents, have you been thinking about getting your vehicle detailed? Now is the time! Save 10% when you book a vehicle detailing package from The Boys Mobile Detailing.  All you need to do is mention coupon code "STEAM" when booking your appointment and the discount will be applied!
To learn more about the packages and services that The Boys Mobile Detailing offers, visit their website at  The Boys Mobile Detailing
From the whole hour that was spent brushing and vacuuming the sand out our of the carpets (clearly, we need to empty out our shoes better) to the many hours that was spent shampooing and steaming all of those spots that are typically out of reach it was like I had received a new vehicle.
This post was created in partnership with The Boys Mobile Detailing, all opinions are my own.