Updated: May 2020
We love watching movies together so one of the things we wanted to do was to create a backyard movie screen outside. Cuddled up on our outdoor furniture with blankets and tasty snacks, these are the things Carter, Sophie + now Finn will remember when they are older.
How To Make A DIY Backyard Movie Screen
Making the outdoor movie screen was super easy, and at around $100 with all materials – this was an affordable option too. Plus the added bonus of space, pausing the movie to get more snacks or to use the bathroom. As of May 2020, this movie screen is 5 years old, and it's still going strong! 
We decided to do ours in an HDTV 16:9 format. 
The calculations for what we needed for supplies were figured out through this Screen Size Calculator. The website will help you to figure out how much PVC & vinyl you will need to purchase if you decide to go with a different size. 
What You Need To Purchase
(2) 4-foot rebars (to put into the ground and hold the screen up). 

(3) 12 foot PVC pipes.

(2) PVC corners

(2) 'T' PVC pieces 

PVC pipe glue

Hospital-grade vinyl, cut to the size of the movie screen (purchased at Fabricland)

(2) rolls of black duct tape to seal the edges 

(1) package of grommets

50 feet of nylon rope looped 
Directions 
Cut one 12 foot PVC pipe in half to make (2) 6-foot pieces.

Cut 10 feet off each of the other 2 PVC pipes. You will end up with (2) 6 foot PVC pipes, (2) 10 foot PVC pipes, and (2) 2 foot PVC pipes.
*The place where you purchased the PVC should be able to cut the PVC pipe for you. 
Next, you will need to glue the corner PVC pieces and the 'T' PVC pieces with the PVC pieces that you cut. Make sure you are using PVC glue. See the diagram for reference.
Moving on you need to prepare the vinyl
Seal the edges of the vinyl material with duct tape

Install the grommets on the edges evenly spaced and mirrored to the other side

Loop the vinyl around the PVC pipe with the nylon rope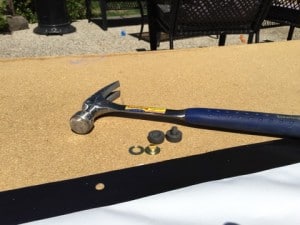 Now the movie screen is ready to enjoy!
To Use The Outdoor Movie Screen
Hammer the rebar 1 foot into the ground with 3 feet above the ground.

Place PVC pipe over the rebar. 

Hook up your projector, DVD player (or whatever you use), and speakers and now you're ready to have a movie in your backyard! 
The weather has been beautiful and warm here in Edmonton and we have watched quite a few movies in our backyard this summer and can't wait to watch even more!