Summer break is finally here are there are so many things to do this summer around Edmonton with kids! The great thing is that many of these activities are free or cheap making your summer not only fun but budget friendly too! Start planning your summer by checking out the 100+ activities below!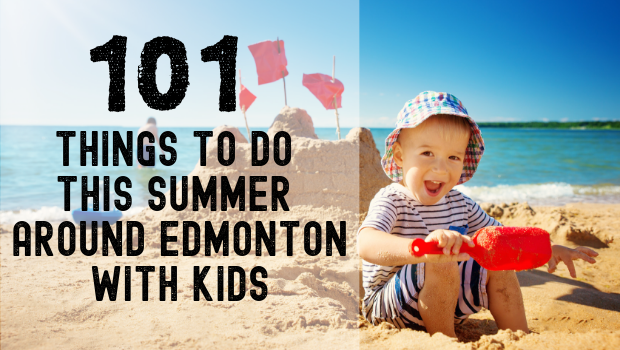 Things To Do This Summer Around Edmonton With Kids
Use the Edmonton Summer Fun Map to find new places to play and explore
Enjoy a pancake breakfast, check out some family-friendly activities, and take in some fireworks at these Canada Day activities in and around Edmonton
Still looking for summer day camps for the kids? These Summer Camps around Edmonton still have spots open!
See what it's like to be a dairy farm at the FREE Breakfast on a Dairy Farm event July 6th
Take advantage of Edmonton & area restaurants that offer Kids Eat Free meals
Purchase an Edmonton Attractions Pass and save up to 60% on admission to your favourite Edmonton Attractions which include the Snow Valley Aerial Park, Jurassic Forest, Ukrainian Village and more
Explore new art and techniques at the Art Gallery of Alberta Art Cart on Churchill Square
Build a raft with the family and register to enter the Sourdough Raft Race on July 21st
Book a tour of the magical Fable Gardens in Morinville
Join the Parent Link Popsicle Party in the Park July 3rd
Learn all about Dinosaurs at Jurassic Forest
Take in a $2.99 Family Favourites movie on Saturdays at select Cineplex Theatres
Enjoy Ice Cream every Sunday at the Wellington Community Hall from 2pm-4pm, prices are $1-$2 depending on your choice (and even cheaper for community members)
Celebrate Free Slurpee Day at 7-Eleven on July 11th
Explore some awesome Toddler-Friendly Playgrounds around Edmonton
Enjoy a teacup cheesecake at Swiss 2 Go
See some amazing Sand Castles at Sand on Whyte June 28th – July 7th (admission by donation)
Take in the Edmonton Street Performers Festival July 5th-14th
Check out the Royal Canadian family Circus Spectac June 27th – July 7th at WEM
Join the dynamic Safari Jeff as he educates and captivates you on his Animology Tour July 5th – 7th
Join the drop-in Summer Day Camps at Laser City
Learn all about nature at the FREE Family Nature Nights on Wednesday evenings
Visit an Edmonton Outdoor Pool, admission is free ALL SUMMER LONG
Shop for fresh food and local wares from Bountiful Farmers' Market, Edmonton's newest indoor farmers market!
Check out some awesome Toddler-Friendly Spray Parks in Edmonton
Book a guided horseback ride at Putting Horse Ranch
Embrace your love for Harry Potter and download the Wizards Unite app. It's like Pokemon Go but Harry Potter theme!!!!
Register for free Apple summer camps at your local Apple store
Take a drive out to Spruce Grove and check out the Ken Morrison/REMAX Excellence Spray Park
Meet your community firefighters at the Fire Hall Open Houses on July 20th & August 10th
Try out fishing for free at the Kids Can Catch event on July 13th
Enjoy some free fun at the Edmonton Green Shack in your community (or explore others!)
Kids ride for free on ETS with a paying adult, hop on the bus and explore our amazing City!
Check out real movie props at the Edmonton Prop Museum
Visit a U-pick and pick some delicious berries!
Fish for free at the Family Fishing Weekend July 6th & 7th
Register to build a Tow Truck on July 13th at the Home Depot Kids Workshop
Go on a Pop Up Playground hop and join in on games, sports, crafts, music, drama and special events at parks around Edmonton
Visit the NEW Urban Farm at the Edmonton Valley Zoo
Kick start Summer the Manning Summer Melt at Manning Town Centre on Sunday, July 13th
Register for a night tour of the Alberta Legislature Grounds on Thursday evenings (daily tours are available noon and 3 p.m)
Watch the K-Days parade on July 19th. This years theme is Alberta Music!
Get ready for the best 10 days of summer at K-Days July 19th-28th
Pack your lawn chairs and snacks and take in an Outdoor Movie
Make your own backyard movie screen 
Register for the Kids Bowl Free program to enjoy 2 free games of bowling every day in the summer
Take in a ball game and watch the Edmonton Prospects 
Read, create and explore all summer long at the Edmonton Public Library with their free programming and summer reading challenges
Sample more than 80 different dishes at The Taste of Edmonton July 18th-28th (Get tickets before July 17th and save $10 on a 40 pack of tickets)
Enjoy $1 Ice Cream Cones from McDonald's all summer long!
Explore this list of Top 10 Edmonton Playgrounds
Enjoy activities for the whole family at Parks Day on July 20th
Register for $3 Camp Creativity at Michaels – there are 7 weeks and each week brings you a new theme which includes retro crafts, sea treasures, world and more!
Take the funicular to the Edmonton River Valley and explore
Take advantage of $2 admission at Happy Acres and visit some farm animals, grab an ice cream cone, and pick some berries! Ice cream sandwich weekends take place the weekend of July 13th & August 10th.
Check out the Edmonton Edible Fruit Trees Map to see where you can pick cherries, plums, apples, and more!
Spend the day golfing and take advantage of the Take A Kid To The Course program where one child under 16 can golf for free with one paying adult
Start your own backyard fairy garden using these ideas
Join the TD Summer Reading program at your local library
Book a FREE walking tour of downtown Edmonton and learn fascinating stories from Edmonton's past & present
Celebrate Edmonton's multiculturalism at the Edmonton Heritage Festival August 3rd-5th
Pack your tubes and plan a day trip to the Whitecourt River Slides
Check out Rock'n August which will feature classic cars, street dances, and pancake breakfasts August 6th-10th
Celebrate Caribbean music, cuisine and carnival culture at Cariwest August 9th-11th
Mark your calendars for the 4th annual FREE family event with breakfast, crafts, activities and games with Family Futures August 10th
Book a float down the river with River Lifestyle Co
Cheer on our NEW basketball team the Edmonton Stingers, tickets start at just $25
Watch some Aerial Performances at Edmonton Air Show (kids under 7 are free, but still, need a ticket) August 17th – 19th
Search the River Valley for some fairy doors hidden by YEGfairygarden
Learn about the 7 steps of safety and ride the battery operated scooters at Safety City
Enter a world of Mermaid magic with storytimes, songs and dances for your little ones aboard the Santa Maria at WEM
Spend the day at Discovery Canyon in Red Deer
Take in some theatre at the Edmonton International Fringe Festival (and Kids Fringe too) August 15th-25th
Check out Groupon to find affordable options for things to do around Edmonton
Check out Edmonton's newest indoor climbing facility, Clip'n Climb
Explore the over 100 farms, ranches and ag-tourism operators that open their doors for Alberta Farm Days August 17th or 18th
Volunteer to rescue fruit around Edmonton for Fruits of Sherbrooke (and you get to keep some too!)
Ride the High-Level Bridge Street Car to Whyte Ave and explore
Enjoy some Ice Cream at these places in and around Edmonton
Beat the heat at the Lions Park outdoor pool in Fort Saskatchewan
While you're in Fort Saskatchewan drive down to Fort Heritage Precinct (Thursday to Sundays & Stat holidays)
Plan a trip to Drumheller and use this list to help you plan activities
Follow Just Another Edmonton Mommy on YouTube to see what places we're exploring this summer!
Are there other things to do this summer around Edmonton with kids that aren't on the list? Send an email to [email protected] to have it added!