What are some of the best toddler friendly playgrounds around Edmonton? We've got a few suggestions. We are on a mission this summer to explore as many playgrounds as we can in Edmonton and beyond. 
10 of the best Toddler Friendly Playgrounds around Edmonton
Brintnell 
One of our favourite parks in North Edmonton, we play at this park quite a bit being it is so close to us. With a toddler area on one side, disc swings, and an easily climbable playground structure. (They've started construction for a spray pad too, so fingers crossed will be done this summer!)
Find it at – 210 Brintnell Blvd NW
Castle Downs 
One of the most popular parks in North Edmonton, part of the toddler area on a soft rubber ground and the other part is in the sand. Perfect for those little ones looking to build sandcastles. The spray park is also right beside this area and there is way more to explore for every age. 
Find it at – 11520 153 Ave
Eaux Claires
For the little one that loves fire trucks and all things cars, this is the playground for them. Follow the road around the park, hop in the fire truck, climb on the dome jungle gym and more.
Find it at – 16103 95 St
Rundle Park
With several areas for little ones to explore, the music area in one of our favourite. The outdoor/woodlands theme is also fun to use your imagination and pretend like you are living in the great outdoors. This park also has bathrooms nearby and while you're there don't forget to check out the paths, paddle boats, and more.
Find it at – 2909 113 Ave NW
Jackie Parker Park
We love going to this park because it has something for all age ranges. From smaller park located on the far end, a natural area, and larger equipment as the park goes on. Whether you have a toddler looking for something at their height or something that will test their boundaries this park has it + plus bathrooms too!
Find it at – 4540 50 St NW
Aurora Park
This playground is specifically dedicated to toddlers with playground equipment that is just their size. Hop on the merry go round, check out the balance area, explore the mini cave and best of all the whole floor is soft, perfect for little ones walking (and potentially falling).
Find it at -1489 Watt Drive SW. 
Hazeldeen 
For the train lovers, this is a perfect park to play at. The park features both a soft ground and sand. Kids will have fun pretending that they are at a train station ticket booth, climb the fun suitcase stairs and if it's warm enough run through the spray park that is connected.
Find it at – 9630 66 Ave NW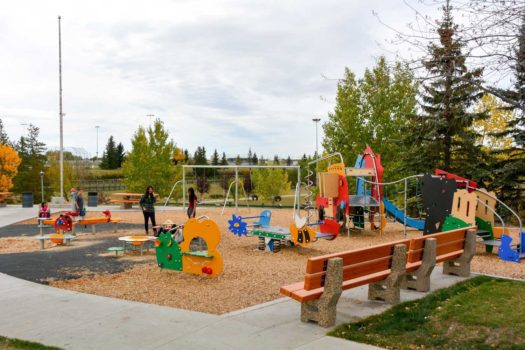 Mill Woods Playground 
Just like the Castle Downs Playground, I love the characteristics of the playground equipment. Bright and fun to play on, there is a sand table area, perfect for little ones to get messy and build with sand. There is also a small spray deck to cool off at.
Find it at – 2730 66 St
Lendrum
This bee themed playground features an area that has a smaller playground structure, pretend store fronts to use their imagination, a bee to climb on, a spinner that is lower to the ground (for the thrill-seeking toddlers like mine) a disc swing and more. There is also a larger structure for little ones to explore as well as great for older kids. 
Find it at – 11335 57 Ave
Crestwood
We just discovered this playground this year! With a zip line chair that toddlers can go on, a double swing for parents and kids to swing together and a rubber ground this will easily become a favourite playground for your little ones.
Find it at – 14325 96 Ave NW
We've only just scratched the surface of some of our amazing parks here in Edmonton. What are some of your toddler friendly playgrounds around Edmonton? For more inspiration follow me on YouTube for tours of local parks and beyond!