Living in a 4 level split the kids spend the majority of their time in the playroom on the 3rd level.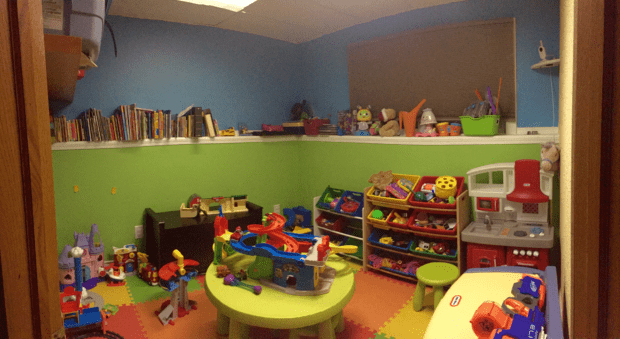 With everything else happening everywhere but the playroom, I sometimes feel like my day consists of running up and down the stairs to check on the kids. This is where the Philips Avent Digital Video Monitor comes in because when you have a Digital Video Monitor its use goes way beyond those first years. 
Up to 150-foot range
The laundry is all the way in the basement, putting the clothes away is all the way upstairs and our kitchen, where I spend a lot my time, is the floor above the play room. The Philips Avent Digital Video Monitor has up to a 150-foot range which allows me to bring the parent unit with me while I'm tending to whichever task that I need to do on whatever floor. 
Piece of mind
I'm all about fostering independence with my kids. Having the ability to have my eyes on the playroom without actually having to be there not only puts my mind at ease but also gives the kids that sense of independence that they need to grow and develop. 
Watching the kids play together
Sometimes some of the most cohesive play happens when I'm not around. While I use the Philips Avent Digital Video Monitor as my second set of eyes to make sure everything is running smoothly I also used to watch all 3 of my kids playing together when everything is good. In these moments I've witnessed some of the most heartwarming interactions. 
Talk-Back Feature
And when the kids aren't getting along, they are starting to bicker, or if it's a situation that doesn't need me to be right there the talk-back feature adds an added convenience. 
Battery Powered Parent Unit
The rechargeable battery powered parent unit offers the convenience of not having to be stationary when using this video monitor. With up to 10 hours of operating time before charging is required, it's another added convenience that comes with the Philips Avent Digital Video Monitor.
The Parent Tested Parent Approved Seal of Approval (PTPA)
What does this mean? Products that get the PTPA Seal of Approval are products that every day parents like you and I have used and put to the test. Many Avent products have WON the PTPA Seal of Approval making this a trusted product and brand for many parents. 
Other great of features
The Philips Avent Digital Video Monitor has many other great features that will help you get through the first few months, years, and beyond. 
Nightlight built in as well a 5 lullabies (with the option to loop them) all to help calm your baby

Adaptive FHSS (Frequency Hopping Spread Spectrum) technology which offers a private and secure connection 

The ECO Mode feature helps to reduce the power that you use during down times 

Other options for the parent unit include Video, Audio, and VOX mode (voice activated)

Temperature sensor with customized alert to ensure that your baby's room is at a comfortable temperature

To find out more about the Philips Avent Digital Video Monitor and how it will best fit into your daily life with kids check out the Philips Avent website 
Enter to win 1 of 2 Philips Avent Digital Video Monitor
From now until February 8th you can enter to win 1 of 2 Philips Avent Digital Video Monitors. The contest if open to residents of Canada (excluding Quebec) Entering is easy. All you need to do is enter via the widget below. 
Philips Avent
#AventMoms Video Monitor Giveaway
"Disclosure: I am part of the PTPA Brand Ambassador Program with Philips Avent and I received Compensation as part of my affiliation with this group. The opinions on this blog are my own."