There are some days where I am so busy that I haven't even started thinking about what's for dinner before Kris walks in the door. Other days we're celebrating a birthday or achievement, or really it's already decided mid-day that we're ordering in just because. For all of these times, we're ordering from Skip the Dishes, which is exactly what we did on Monday when we ordered from Soda Jerks! 
Skip the Dishes is a food delivery service that has been in Edmonton for a couple of years and gives you the option to order from some of your favourite restaurants around the City and they deliver it to you. 
It's easy to use
Getting started and ordering is easy. All you need to do is create an account with Skip the Dishes via their app or through their website. Once you have done that you enter your postal code and what is near you will come up and what is open at that moment is where you can order from. 
The selection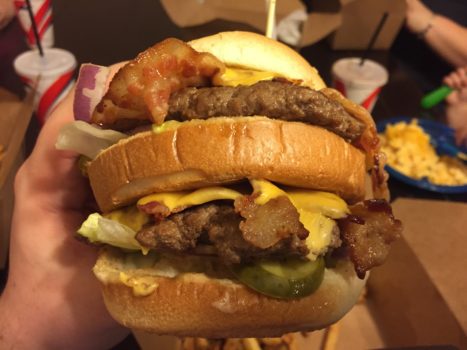 What used to just be an "Are we having pizza or Chinese food" decision is now something where you can order anything from breakfast foods, donairs, greek, Italian, Sushi, Ice Cream and yes even pizza and Chinese food, plus more. This is especially great for us because going out with 3 kids sometimes isn't worth the chaos and stress. Skip the Dishes still gives us the option to choose from our favourite restaurants…sometimes when the kids are already in bed!  
Pricing
Delivery prices range from $4-$8 depending on the restaurant and some even waive the fee when you order over a certain amount. In regards to the food prices, they aren't any different than the menu prices in the restaurant. Even better for a limited time you can save 10% off of your order with Skip the Dishes with Coupon Code: BLOG10ae3f
You can track your order
From the moment that your order is placed to the time that it is delivered to your door, you can track it. The really cool thing is that it updates in real time and lets you know when your order has been accepted, picked up and when your driver is en route.
Win your next meal from Skip the Dishes
I have partnered with Skip the Dishes to give you a chance to win a $50 credit to Skip the Dishes. All you need to do is enter via the Widget below!
This post has been sponsored by Skip the Dishes, all content is 100% authentic and true. I'd even scream it from the rooftops – I love ordering from Skip the Dishes!