You know those parks that are worth the drive? That is what Meadowview Dinosaur Park in Leduc is, mainly because it has an epic zip line, but also because it was made with a really cool dinosaur theme too! 
The park which opened in 2015, was the first park in Alberta to have a zip line was built with a dinosaur theme to commemorate the discovery of the hadrosaur fossil that was found in the Meadowview community in 2013. 
From a smaller structure for younger kids and toddler to play as well as a sand table to a larger structure for school age, there is something for kids of all ages. There are also baby swings and regular swings.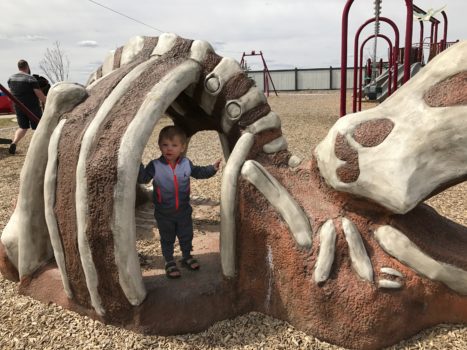 Of course, both Carter and Sophie have said that the zip line was their favorite feature in the park, Finley is having a hard time choosing from the swing – which he was taken in and out of at leat 10 times and the large slide (seriously this kid has NO fear). 
This is a park that we have already visited a couple of times because the kids love it! You can find the Meadowview Dinosaur Park at C.W. Gaetz Road and Meadowview Boulevard in Leduc. Want to see more videos of other parks make sure you follow me on my YouTube channel.