The Royal Alberta Museum is Western Canada's largest museum and it's finally open!!! I can guarantee that this is definitely going to be one place that we will be checking out with the kids on a regular basis.
Royal Alberta Museum Galleries
There are currently 4 galleries that you can visit with Bug Gallery and Children's Gallery on the main floor and the Natural History Hall and Human History Hall on the second floor.
The bug gallery is filled with many experiences to learn about insects, spiders and other invertebrates from Alberta and around the world. This was always my love-hate room at the old museum location because well bugs, but they're also so fascinating!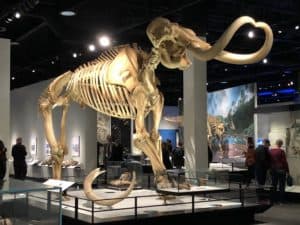 The Natural History area is spacious with the exhibits spread out in pockets. This makes it so that even though you may be sharing the area with a lot of people it feels like you're the only one there. As you walk around you can explore Alberta wildlife from the Ice Age, Ancient Alberta, as well as Wild Alberta. There are also Gems and Minerals from Canada and around the world.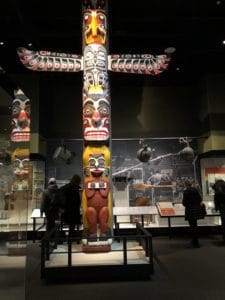 Explore the history of Alberta through the many exhibits which include pioneers, milk farmers, cowboys, and both World Wars. There is also a large area that is dedicated to viewing the province through the eyes of Indigenous people which itself can take a good hour to explore.
I saved the best for last because it was by far my favourite area! Be prepared to spend a lot of time in the Children's Gallery – it's 7000 sq feet. Just when you think there's nothing else to explore, there is more and your kids will love exploring it! A makerspace for you to let your creativity loose, a place to dress up, the area with the nostalgic kid's toys, a toddler area,  many opportunities to learn about Alberta's natural history and so.much.more. 
Currently, every day at 10:30 am you can join Moe the Mini Mammoth for Moe's Story Moring in the Children's Gallery.
**In 2019 the first feature gallery will be announced! With a 12,000 sq foot gallery, there is plenty of space to explore! Make sure you're following the Royal Alberta Museum on Facebook, Instagram, and Twitter to stay up-to-date on all new exhibits, programs, and events. 
Accessibility
Free lockers with a key lock for your convenience
Strollers and wheelchairs are available to rent for free
Accessible washrooms are available with one washroom equipped with a transfer lift (no sling supplied)
Sensory kits are available to those with sensory processing differences which include a backpack with noise reduction headphones, sunglasses, fidgets, and a timer
A list of accessible parking can be found here 
Upcoming Events & Activities
Starting in 2019 the museum will host Sensory Sunday, a pre-registered event that will open for families with sensory needs before the museums regular hours.
The Museum will also host many other fun family events such as Fam Jam @ the Ram, the first Family Day at the museum, as well as Dig, Dig, Dig, Mini Events, date nights, and even birthday parties.
To be notified about certain events, bookings and more, email [email protected] to be on their mailing list.
Hours & Admission
The Royal Alberta Museum is open 7 days a week.
Monday | 10am-5pm
Tuesday | 10am-5pm
Wednesday | 10am-5pm
Thursday | 10am-8pm
Friday | 10am-5pm
Saturday | 10am-5pm
Sunday |10am-5pm
October 3rd-8th is free admission days (tickets required), regular hours and admission will begin on October 9th. 
Admission for the Royal Alberta Museum is:
Adult18 – 64
Senior65+
Youth7 – 17
Family * 
Child 6 and under
One-Day
$19
$14
$10
$48
FREE
Two-Day
$27
$21
$15
$69
FREE
Mammoth Pass
$35
$30
$20
$70
FREE
The Mammoth Pass is valid for 2 adults and children under 17 yrs with for up to 8 people. For our family of 5, the cost of admission is $52 for one visit (we only pay for Carter as the other 2 are under 6). For an extra $18 it makes sense to purchase the Mammoth Pass and we'll to be able to explore the Royal Alberta Museum for a whole year!
You can find the Royal Alberta Museum at 9810 103A Avenue. There are many parking spaces around the downtown core for your to park at (for a fee) as well as LRT/ETS access close by as well.