SkirtsAfire is back again for 2022, celebrating 10 years of diverse, daring and non-stop-entertaining art in Edmonton! From March 3-13, you're invited to enjoy the performances and experiences that feature the unique and inspiring work of artists from diverse backgrounds, including cis and trans women, non-binary people, the 2SLGBTQIA+ community, and of all ethnicities and all abilities. This is a festival that you're not going to want to miss, and here's what you need to know.
SkirtsAfire 2022
This year there are many ways that you can take in SkirtsAfire, and these are just a few of the ways I'll be enjoying the festival this year!
Premiering Ayita
The MainStage play is Ayita by Teneil Whiskeyjack, a modern-day creation story that meets Indigenous realities and is told through a fusion of theatre and Indigenous contemporary dance. The story follows three Cree women, each in a different cycle of womanhood, yet seamlessly connected as they navigate through their own stories of sovereignty, breaking free from and transcending past personal pain, stepping into their healing and liberation, awakening to their medicine.
Tickets to Ayita are now available and can be purchased here!
Her Night Out – March 9th!
Her Night Out is one of my favourite ways to enjoy the SkirtsAfire Festival. This year, enjoy a delicious dinner at Chianti, everyone's favourite pasta place, while listening to live music by Kate Blechinger, and then head to the Westbury Theatre to watch the MainStage play; tickets are available now! Use promo code 'JAEMBOGO' for BOGO tickets for the Her Night Out performance. Can't make it, but still want to see Ayita? Use promo code 'JAEM20' to save 20% off any other performances of Ayita during the festival. 
Skirts on Whyte: 
"4 Directions" Skirt Displays
For 2022, the Skirts Design Challenge has been reimagined. Using upcycled materials from participating Old Strathcona retailers (which would typically end up in the landfill), this year, nine local artists have been challenged to create entire artistic window displays with an up-cycled skirt as the centerpiece. 
This year's theme for their Skirt Design Challenge is 4 Directions! Four retailers' window displays will be transformed as the different artists create using the same materials, in 4 directions, all using a different colour (red, white, blue, or yellow). Check them out from February 28 – March 13, 2022, at the following locations.
C'est Sera (8239 104 Street NW)

The Paint Spot (10032 81 Ave NW)

The Quiltbag (10516 82 Ave NW)

Gravity Pope Tailored Goods (10414 82 Ave NW)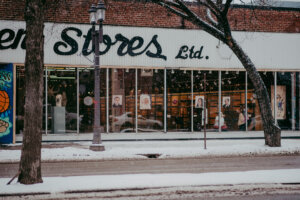 The A&N Experience: Art, Design, & Performance!
SkirtsAfire will be transforming the Army & Navy building again this year, where they will be presenting The A&N Experience. Bigger and better than the previous year, this space is home to a Cabaret Stage and is designed by Vignettes, giving you even more opportunities to enjoy the interactive art installations, design, and live performances, such as the A-Line Variety Show, and Music and Comedy Nights. Find all the A&N events here. 
Visit skirtsafire.com to see the full schedule of events and get your tickets or festival pass!
Photo credits:
April MacDonald Killins (Festival photos)
Steinhauer Photography (Ayita photos)