Every year on the first weekend in October the Smoky Lake Pumpkin Festival takes place and this year we drove in comfort in an F150 King Ranch.
On our way there we stopped in at Redwater River Ranch for some elk meat and met some of the cutest cows I've ever seen. If you're ever looking for Elk meat I highly recommend checking them out!
When we arrived in Smoky Lake we hopped on the bus and headed straight to the pumpkin weigh-off! One of the field pumpkins came in weighing 191lbs making it the second-largest in the world! And there was a watermelon that was over 680lbs!!!. The kids were so bored at first (I get it) but then they enjoyed it more when the shirt cannon was brought out. (kids amiright?)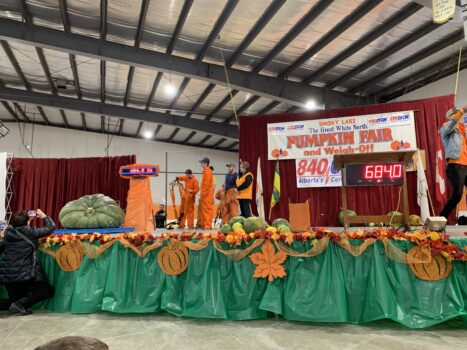 After a quick bite to eat, a visit to the petting zoo and some rides we went and parked to wait for the epic pumpkin drop that happens at the end of the day. In case you've never been, they drop the largest pumpkins on a vehicle – this year it was a minivan. So Alberta! (To see the video head on over to my Instagram and watch the stories under the FORD highlights)
What I Loved About The F150 King Ranch
SYNC 3 is so convenient! You can pair your phone with Bluetooth or also access it by plugging your phone in with a USB cord which makes it easy to access maps, music, make phone calls and more.
The room! Oh, the room!  With 3 growing, and one of them in a car seat the F150 King Ranch definitely gives you the room you need in the back seat. And for my tall husband, he had more than enough room.
The retractable step. I'm as short as my husband is tall, and this step made getting in and out of the vehicle a breeze not only for me but for the kids as well. Bonus, it retracts when you open the door!
The ultimate climate control with heated and cooled seats and a heated steering wheel. I feel like I don't even need to explain how awesome this is like you just know that the option to have the air conditioning on your backside when you're feeling super hot is the ultimate relief.
It drives so nice and smooth and lulled all 3 of my kids to sleep on the way there and back.
As always we had a blast at the Smoky Lake Pumpkin Festival and can't wait for next year!
Want to read other FORD reviews? Check out these ones!
This post was sponsored by FORD Canada, as always opinions are my own.